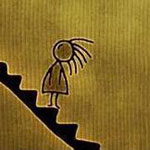 Konterkonzept EP by Julius Lagerfeld from the Interdisco netlabel. This is music with an evil grin. The Joker's henchmen would dance to this. Yes, it's electronica, but moreso, it is electric.
According to Lagerfeld, "it was created by exclusively using hardware synthesizers to set a counterpoint to the prevailing approaches of laptop and software." He seems to be onto something. This stuff just crackles with energy from the first few seconds and carries through to the end.
While the requisite minimal techno repetition is there, it exists simply to lull you while subtle surprises slink in and out of auditory view. Lagerfeld knows how to take his time and explore an idea, and then move into territories that at first are unexpected, then seem inevitable. This is true of the structure as well as the sound design.
Note: for some reason archive.org's stream of this EP is playing back at a slower speed. Preview this one from the mp3 downloads instead.